If Manny Pacquiao is a typhoon, an earthquake, a tornado, the ruptured fabric of the cosmos torn apart; a thing awe inspiring and impossible to avert one's gaze from, then Ricky Hatton is the freezing ice, the hard lapping of the tide, and terrible toll of the ages on the living. It is a different type of heroism, one that for me is less striking and captivating, but nonetheless profoundly moving in its way. Ricky Hatton lacks any of the superpowers that make Pacquiao so mesmerizing, one doesn't need any insight into the finer points of boxing to find even Manny's shadowboxing breathtaking, but the Hitman's charms are both more and less subtle.
There is little science to his work in the ring. Like John Henry with his hammer he swings away, and while he has nice footwork, good power, and terrific body shots, it is difficult to find any marks of romance or poetry to his rhythms. He is like a factory worker or miner, toiling away hour after hour. His is the mugging, slamming style of the industrial age; limbs caught in threshing machines, bones broken in mechanical mishaps, blunt trauma from automobile accidents; these are his fighting analogues. While Floyd Mayweather Senior tries to remake him as a smarter brawler, a scientific slugger, I find it unlikely we will see anything too divergent from his old ways. He is the steam engine, unrelenting and simple, and it will take something special to send him sprawling from his path.
Ricky Hatton TKO 12
Kostya Tszyu
2005: Ricky had gone nearly forty fights before he stepped up to the elite classes. Many, myself foremost, thought he was merely a protected British contender, content to take his money fighting limited opposition provided by promoter Frank Warren. When he took this fight against the aging Tszyu I expected a quick knockout, as Ricky's reckless style and penchant for receiving deep and dangerous facial cuts in even domestic level bouts seemed a cruel preparation for an all time great puncher in Kostya Tszyu. But, fighting in front of tens of thousands of cheering fans, Hatton fought like a man possessed. He knew he couldn't outbox the classically trained Tszyu, so he proceeded to mug him. Getting inside and wrestling him, draining the aged champion. He used elbows, shoulders, and his head to batter Tszyu in a fight whose outcome I still wonder about if presided over by a different ref. Still all credit to Hatton who battered Tszyu and walked through hellish shots in a close fight until Kostya retired on his stool, a broken man who never fought again. Hatton won the ring belt at junior welter, which he still holds today, the longest reigning champion in the sport.
Ricky Hatton UD 12
Luis Collazo
2006: Hatton moved up to welterweight to fight slick southpaw Collazo. In a desperate struggle he managed to smother and outwork Collazo for much of the fight, but any time the Puerto Rican got any distance Hatton was at a loss, unable to cope with the technically superior, faster, and longer armed opponent. Hatton was rocked in the later rounds, in fact was, I thought, knocked down in the 12th round, but managed to pull out the close decision through his consistent pressure. He had no business winning this fight, but it takes a man more special than Collazo, the type of guy who is just good enough to lose to any quality opponent he faces.
Ricky Hatton KO 4
Jose Luis Castillo
2007: Hatton rips Castillo's insides open with a brutal left hook to the body. In his earlier career this had been Hatton's trademark, like some translucent Mexican he threw body punches with murderous intent. But, since raising the level of his opposition he seemed to leave the punch behind. Here he used terrific footwork to land a dream punch, knocking out Castillo, a great fighter but badly damaged by too many wars.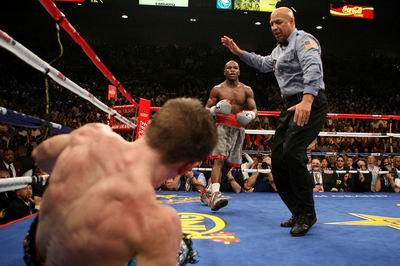 Ricky Hatton TKO by 10
Floyd Mayweather Jr
. 2007: In a fight he was never really competitive in (no matter what the HBO announcers tried to tell us) Hatton was outclassed by the former pound for pound king. There is no disgrace in losing to a preternatural talent, but the manner of the defeat was telling. Despite protests that the ref didn't let Hatton "fight his fight," Hatton was handled on both the inside and the outside, unable to deal with the precise punching of Mayweather. In the memorable sixth round he hit Mayweather on the back of the head, lost his cool, a point, and any semblance of a plan. He was embarrassed and started making desperate lunges, easily countered. When Mayweather led him into a left hook in the tenth round and he smashed head first into the ring post it was a humiliating end to a humiliating performance. Hatton vows never to fight at welterweight again.
Ricky Hatton UD 12
Juan Lazcano
2008: In his comeback he went against Lazcano, a career contender, and looked and fought uninspired. Coming off a weight binge, a hallmark of his career, he was flat, easily winning but looking like a fighter playing out the string. He was even hurt at one point. After the fight Ricky fired his trainer, Billy Graham, in a move long overdue, and hired Floyd Mayweather Sr.
Ricky Hatton TKO 11
Paulie Malignaggi
2008: In his finest performance since Castillo, Ricky bludgeons Malignaggi to a corner stoppage. Malignaggi is hurt in the second round, and after that fights to survive. Though limited by the weakest punch of any world-class fighter in the world, Malignaggi was thought a difficult opponent, but Hatton used brute force and relentless aggression to ground him down in a way not even Miguel Cotto had managed. Though some see improvement under Mayweather's training, it is difficult to tell when the opposition has no weapons to trouble you.
The theme of Hatton's career has been consistent. He is never spectacular, but nearly always effective, particularly at his natural 140 pounds. He is strong and solid there, any technical deficiencies countered by his aggression and brutality. He is an A class fighter, and can beat anyone at a certain level. The question is, does he have more than that? Can he beat a special fighter? Does the mace still work in an age of guns and lasers? All his disappointments, his doubters, will be erased if he can just manage to pin the little Filipino in a corner. He may not be able to catch him, but he might be able to ground him up, to tear and gnash and rend the thoroughbred. His destiny stands in the balance too, to be remembered as a fine champion, a popular slugger who made it big but came up short, or to be remembered as a hero to his people. The guy who was just folks, he could have a pint with the boys back home and then travel to distant lands and catch the ghost. It means so much.
I find his humble persona and everyman sensibilities yawn-inducing. I find his mugging style and naked aggression underwhelming. Even his excesses, the binge eating and drinking, seem so tepid when marked against the great tragic appetites of ring history. But there is something to be said for hard work, for a man who doesn't quit. There is a certain romance in knowing oneself and the grinding hungry pressure of the ages, the valor of the loser who wins. I don't think he can do it again, but he just might. Tomorrow the pick.