G
ood little fight between
Timothy Bradley
and
Nate Campbell
on Showtime this Saturday. I like both guys and don't have any clear conception about the outcome.
I think Nate Campbell has a little higher ceiling; he's a born menace. At the same time he's pretty old and didn't look all that sharp against Ali Funeka, a fight where he didn't make weight. Though he won, his lightweight belt was stripped and he was forced to move up to junior welter.
Campbell is old, but bone tough.
Campbell has a real inner confidence, bordering on insolence. It's the type of chip on your shoulder that can feed you once old age starts to eat away at the good stuff. He loves to talk and I hope he eventually gets into broadcasting. I like to think of him as a miniature, less talented, Bernard Hopkins. And if you don't know, that's high praise indeed.
Timothy Bradley is slightly less interesting. He seems a nice man, and throws punches with conviction, but to me there doesn't seem much pathos or deep hurt in the way he fights. He's a little muscle-bound and stiff, like he has been taught to fight. He doesn't have the same underlying sense of menace and the dark passenger that seems to gnaw at Nate Campbell and what I call the "natural fighters."
What Bradley does have is a set of moral principles; a kind of code of conduct that allows him to go to the edge and not over. In his last fight against Kendall Holt he took a huge shot in the first round, the kind that if it doesn't put you down for ten will change your way of thinking at the very least. But Bradley pulled it together and outworked Holt to unify the belts. He didn't do anything impressive, except exert everything he had. One felt that Holt might have had the greater tools, but we all know that's just palaver and high talk. What matters is the making it happen. Every single fight Bradley is in great shape. Every single fight he brings it.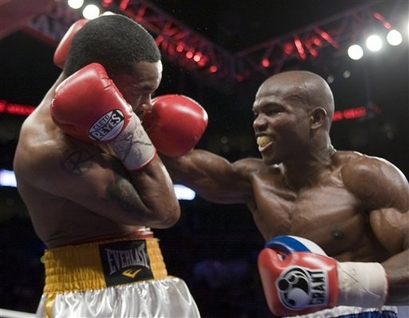 Bradley brings it every time.
So what's my prognosis? A pretty good scrap. Part of me thinks that Bradley is just too consistent, but I can't past get the feeling that Campbell has the cold rage. The type that tears mountains and roads and ripped the cosmos to pieces. I think the path to victory is lined with bad intentions. Campbell by decision.
* * *
I hate to do this after lauding him, but if you haven't checked it out this is Nate Campbell's historically boneheaded moment. He drops his hands in a fight he was winning and gets an unfortunate result. I don't like it, but it's a classic.