*** Update: Please check out the new piece I just did for nomas on Mayweather/Marquez.****
I might be one of the few, but when I heard that negotiations between cruiserweight champion Tomasz Adamek and geriatric wonder Bernard Hopkins
had been restarted
it sent my mind racing. Behind only Pacquiao/Mayweather it's the fight I most want to see. Tomasz Adamek is a former light heavyweight champ and in the last couple of years has carved out a place for himself as a can't miss action fighter and a top figure in the cruiserweight division's, admittedly short and neglected, history. It would be a big fight for Adamek; if he should win he would really stamp his name as a fine champion, and move beyond a mostly Polish attraction to an HBO headlining fighter.
But, of course, the main focus of my excitement is Bernard Hopkins and his quest for the grail. Part of me wants him to quit, certain as the grave that if he keeps pushing his end will be no more glorious than the others whose time came much earlier. My god, though, what if he does it? What if he managed to, at the age of 46 move up thirty pounds from his last bout, itself a certified miracle, and win another legitimate title from a borderline p4p champion? He is already, to my mind, the greatest "old fighter," of all time, but this would really bring it home.
I know some think Hopkins should fight the winner of Dawson/Johnson, but to me there's something special about the audacity of the task in an Adamek fight. It's also something tangible and bold. It would go right in the opening line of Hopkin's CV, something like…
"Bernard "The Executioner," Hopkins was the longest reigning middleweight champion in boxing history and won the light heavyweight and Cruiserweight championships after the age of forty."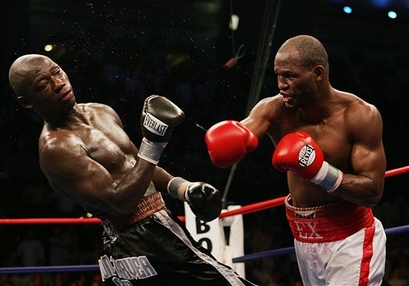 I'm no historian, but I think it would actually lift him above his contemporary Roy Jones Jr. as the greatest fighter of the post Whittaker era. (Holyfield, and Pacquiao or Mayweather, might have some dispute depending on the future)
A lot of people dislike Hopkins because of his cautious style and confrontational black identity, but to me he is a monument to discipline and soul. There is such a righteous fire inside him that it sometimes burns through the screen. He's an old man, but he's made of shoe leather and sinew, and the miasma of creation.
The thing that I've always loved about him is that he is not particularly physically gifted in any area. He has decent power, good handspeed, prodigious strength for a natural middleweight; but nothing compared to the genetic freaks who share his lofty ranks. What he has is a hardness and completeness of spirit that few can match. He is always on balance, always planning, always has his hands properly positioned and his chin tucked tight as though gently holding an invisible egg. He would have made a fine general in the era of cavalry, or a formidable knight in the age or heroes.
As a man constantly at odds with himself I admire his stalwart discipline. He has physically declined, but the fundamentals remain, the tricks and the insights and wisdom of the ages. I love to watch his feet in the ring, the rhythm gained through decades of shadowboxing and sparring. But even moreso one feels he is the rightful heir to generations of African-American prizefighters who passed through the gymnasiums of Philadelphia and the East coast. A true disciple of the sweet science, he may not have been born from a family of fighters, but it is in his blood.
Mike Seeger died this week, a folk singer and preservationist of roots music, he called his life's study the "true vine." It was a sound that came from the mountains, deep and lasting and American. That's what Bernard Hopkins is; he is the true vine.
On some level the fight with Adamek is incidental to Hopkins' career, he has already been etched into the book of names. For most I would say let it go, the glory of the Pavlik fight is good enough, but I want to see the old master at work again, want to see what tricks and old-tyme music he can play. He isn't exciting or athletic or even particularly relevant to the sport anymore; but he is something more. He is an ambassador for an age and a philosophy that is largely gone. He did it his way, and I hope he does it one more time.
*I'm going to try to make a list of Hopkin's ten best moments this week as a way of framing what I think a fight with Adamek might mean.