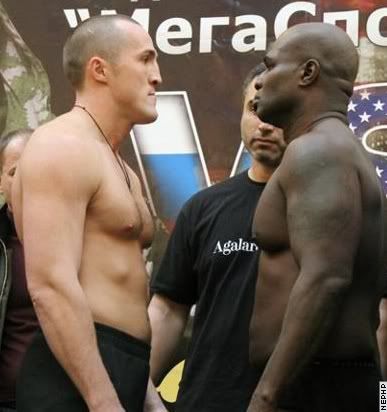 Just a little note on the eve of what is likely James Toney's last significant fight.
I've started half a dozen ways, but really, I'm too nervous to offer much.

James fights Denis Lebedev, an honest bruiser in Russia tomorrow. Lebedev is a good fighter and I thought he beat Marco Huck – Ring's top ranked cruserweight – when they fought last year. He's powerful and has pretty quick hands, but he doesn't move particularly well and has zero, I'm talking none, science too him.
He's the type of guy James Toney would have eaten up, absolutely cooked to bits, only eight years ago...
Yeah, that's a long time isn't it?
I know I should give him up, shouldn't care a bit, really. James has eaten himself out of a potentially legendary career, and at forty-three there's really no going back. It's surprising that they made this fight in the first place, gave the aging champion a shot at a highly ranked opponent. But just seeing him, his face returned after he dumped sixty pounds of fat…
And I can't help myself, I'm hooked.
Clean punching.
Shoulder roll.
Slip and counter.
Punch to the body, punch to the head.
Uppercut-left hook.
And that glorious counter right.
I can't help it. If James were in the Marines the drill sergeant would call him a, "disgusting fatbody."
But, to me, he's the most beautiful thing I've ever seen in a boxing ring.

I admire the physical freaks like Roy Jones and Floyd Mayweather. The electric skittering geniuses like Pacquiao and Duran. Love, even, the masters of guile and meanness like Bernard Hopkins.
There's something special about James Toney, though. To me, he is boxing. The sweet science. The art of bruising.

He'll go anywhere and fight anyone; faster, bigger, stronger, it doesn't matter. He'll stand there in front of you, right there in the pocket. A little shift to the right, a little roll to the left. A step back and a bob of the head.

Those are his powers, those are his gifts. He stands there in front of you – dodge, block and slip - and fire back.
He's had too many tough fights, too many wars, and too much food. It's a miracle that he made the cruiserweight limit after all this time, and I expect him to be weakened.

Chris Byrd, Roy Jones, Oscar De La Hoya, Antonio Tarver; old fighters don't have a good record upon dropping weight recently.
But still, part of me can't help believing he'll still tear this guy apart. An old fighter with one last fight left in him.

I'd like it so much I can't really even talk about it. Because I don't expect I'll ever see anyone who fights quite like him ever again. And I've never quite found a fighter I've ever liked to watch so much.
I've started half a dozen ways on this, wanted to write my great James Toney piece, but I'll wait until after. Because, like all fans, particularly boxing fans, I'm a romantic.

And I really just wanted to say, if only one last time.
War James Toney!
War Lights Out!
James Toney UD 115-113 Denis Lebedev